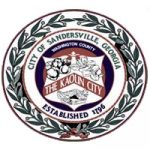 Sandersville Council discussed Hurricane Michael during their Monday, October 15 meeting.
"We're thankful for our emergency responders," said Mayor Pro-Tem Jeffery Smith. He added, "We were well prepared."
Sandersville Fire Chief and Washington County Emergency Management Agency Director Russell Riner explained during the Council meeting that three planning meetings took place prior to the storm; the National Weather Service held webinars Monday, Tuesday, and Wednesday to discuss the forecast for Hurricane Michael.  Stakeholders from various agencies throughout the county attended those meetings in order to prepare for Hurricane Michael.
"A lot of participants came [to the meetings], and I felt good about the pre-planning and what we had in place," said Riner during the Sandersville City Council meeting.
According to Riner, the Red Cross has traveled throughout the community to survey the damage from the storm.
"I'm proud of our community and how well we planned," said Riner.
Sandersville Public Works Director Robert Eubanks commended Riner for his work in organizing the planning meetings with the various agencies in Washington County.
"He did an amazing job getting everyone prepared," said Eubanks, adding, "He was on top of it from day one; he did a fantastic job."
Sandersville Police Chief Victor Cuyler also commented on Hurricane Michael during the City Council meeting.
"I'm grateful to the Lord that Hurricane Michael didn't really beat us down too bad," said Chief Cuyler. "We were able to manage the situation."
Sandersville Electric Department Director Wayne Poole reported that the City saw power outages during the storm, but they worked diligently to restore power on Thursday morning.
"I thank the Lord it was no worse than it was," said Poole.