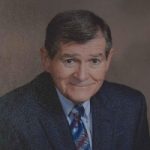 Mr. James Henry Goodman Jr., age 72, of Sandersville, died Thursday, August 29, 2019 following an extended illness.   A funeral service will be held Saturday, August 31st, at 2:00 p.m. at Sandersville United Methodist Church with burial in Brownwood Cemetery.  Reverend Dr. Stan Littleton, Reverend Don Youmans and Reverend Roger Holly will officiate.  Pallbearers will be Randy Mayberry, Randy Helton, Randy Branan, Carwin Avant, Gene Renfroe, Michael Fulghum, and Larry Smith.   Honorary pallbearers will be members of the Asbury Sunday School Class and the Friendship Fellowship Club at SUMC.
Mr. Goodman was a native and lifelong resident of Sandersville, the son of the late James H. Goodman Sr. and the late Helen Fulghum Goodman.  He graduated from Washington County High School in 1967 and later that same year married the love of his life Linda Shurling Goodman.  James served in the Georgia National Guard from 1969 to 1974 where he received honor graduate status from his training while in Fort Leonard Wood, Missouri.  He retired from Thiele Kaolin as shift supervisor after 27 years of service.  James was a long-time member of the Sandersville United Methodist Church where he was a member of the Asbury Sunday School Class, served as a church usher and was active in the Bread of Life Ministry.  James enjoyed working in his yard, caring for his pet cats, building things in his shop, listing to southern gospel music, traveling to Pigeon Forge and above all spending time with his family especially his granddaughter Bethany and great grandchildren, Cathryn and Camryn.
Survivors are his wife of 52 years, Linda S. Goodman; daughters, Amy G. Screws and her husband Tony and Emily G. Johnson and her husband Wayne; granddaughters, Bethany Grace Screws and Rachel Nicole Kicklighter; great grandchildren , Cathryn Nicole Kicklighter and Cameryn Madison Kicklighter all of Sandersville; sisters, Cynthia G. Barron of Sandersville and Edna G.  Kyzer of Marion, Indiana; and many nieces and nephews.
The family will receive friends on Friday from 5:00 p.m. until 7:00 p.m. at May and Smith Funeral Home and they will be at the Goodman residence on North Avenue in Sandersville.
Donations may be made to Sandersville United Methodist Church and designated for the Altar Fund or to the Asbury Sunday School Class at P.O. Box 611, Sandersville, GA. 31082.
May and Smith Funeral Directors is in charge of these arrangements.