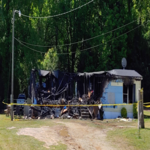 A house fire in the 400-block of Sunhill Road on Saturday evening claimed the life of 62-year-old Bobby McDonald of Sandersville.
According to Washington County Sheriff Joel Cochran, firefighters were dispatched to the area shortly after 9 p.m. on Saturday, April 24.
Paramedics located McDonald near a doorway at the back of the residence, and attempted to save his life. However, McDonald succumbed to his injuries.
"This is another tragedy our community has suffered," said Washington County Sheriff Cochran.
Sheriff Cochran stated that the paramedic sustained minor injuries to his hand, and was treated at Washington County Regional Medical Center; he has since been released.
The cause of the fatal house fire remains under investigation, according to Insurance and Safety Fire Commissioner John F. King.
"The cause of this tragic event is still under investigation, and our team is assisting the Sandersville Fire Department, Sandersville Police Department, the Washington County Sheriff's Office, and the Washington County Coroner in this matter," said Insurance and Safety Fire Commissioner King.
According to King, McDonald's body was turned over to the Washington County Coroner and transported to the Georgia Bureau of Investigation's crime lab in Atlanta for autopsy.
This marks the 51st death from a Georgia fire in 2021.