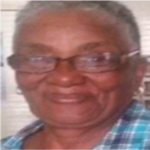 Ms. Betty Prosser Harris passed away on Monday, June 14, 2021 at the Wrightsville Manor Nursing Home in Wrightsville. Memorial services will be held privately by the family.
Ms. Harris is survived by her grandchildren, Mr. Ahmad (Carmen) Prosser, Mrs. Ashley Prosser Brown, Ms. Vaneilus (Estachia) Prosser and Mr. Brandon Prosser; mother, Ms. Lelia Mae Norris; three grandchildren; and several other relatives and friends.
M.C. Smith Funeral Home in charge.