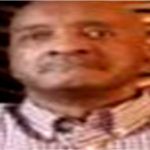 Mr. Garry Wilcox passed away on Tuesday, July 13, 2021. Graveside funeral services were held on Sunday, July 18, 2021 at 1:30 P.M. at the Rest Haven Memorial Gardens Cemetery with Reverend Jerry Walden officiating.
Mr. Wilcox was born on August 22, 1958 in Washington County, Georgia to the parentage of the late Mr. Hardy William Wilcox, Sr. and the late Mrs. Dorothy Frazier Wilcox. He was a graduate of Washington County High School, Class of 1976. He attended Fort Valley State University.
Mr. Wilcox leaves cherished memories to his daughter, Ms. Dewanda Norris (Johnny), Tennille; one grandson, Master Bryson Cook, Tennille; two sisters, Mrs. Eunice (Kirby) Palmer, New York, New York and Ms. Alisa Drummond, Atlanta; two brothers, Mr. Gregory D. Wilcox, Tennille and Mr. Hardy William Wilcox, Jr., Rome; four aunts, Mrs. Carolyn Kirkland, Atlanta, Mrs. Yvonne Baker, Atlanta, Mrs. Eloise Frazier, Tennille, and Ms. Peggy Jones, Orangeburg, South Carolina; two uncles, Mr. Calvin (Elaine) Frazier, East Point and Mr. Willie (Inez) Smith Atlanta; three nephews, Mr. Brian (Veronica) Palmer, New York, New York, Mr. Rodrick (Shandrea) Drummond, College Park, and Mr. Hardy William Wilcox, III, Powder Springs; one niece, Ms. Roilanda Cummings, Atlanta; and a host of devoted cousins, other relatives, and friends.
M. C. Smith Funeral Home in charge.