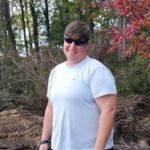 Merri Rebecca Jackson, affectionately known as "M.J." by family and friends, passed away on Tuesday, March 23, 2021. A memorial service to celebrate her life will be held on Friday, April 9, 2021 at 2:00 P.M. in the May and Smith Funeral Home Chapel. Elder Kenneth Brantley will officiate.
M.J. was born in Milledgeville on December 26, 1978 and reared in Harrison. She graduated from Brentwood School in 1997 where she excelled in both basketball and softball. M.J. formerly worked for the Georgia Department of Corrections as a correctional officer at Scotts Correctional Facility in Milledgeville. Most recently, she worked as a solar technician for E-Light in the solar industry. Her greatest joy was found being out in nature and with friends. She loved fishing, hunting, and being outdoors. Her memory will continue to live in the lives of the many she touched throughout her lifetime. M.J. is predeceased by her father, Robert Horace "Bob" Jackson, paternal grandparents, Horace and Pauline Jackson, and maternal grandparents, Frank and Betty Lamb.
Survivors include her mother, Luann Lamb Jackson of Sandersville; stepbrothers, Horace P. Jackson and his wife Tricia of Harrison and Jason Page and his wife Debbie of Evans; aunts, Helen Jackson Lipscomb and her husband Lawrence of Milledgeville and Frances "Cissy" Lamb of Gray; and special friends, Julie Denham and her son Thomas, April Peavy, along with many others.
The family will greet friends following the memorial service at the funeral home.
May and Smith Funeral Directors is in charge of these arrangements.