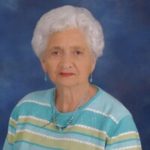 Mrs. Marie Hattaway Chapman, age 95, of Tennille passed away on Monday, April 5, 2021 at her residence following an extended illness. Graveside funeral services will be held on Wednesday, April 7th at 2:00 P.M. in the Zeta Cemetery. Reverend Gary Griffin and Reverend Jimbo Dominey will officiate.
Mrs. Chapman was a native and lifelong resident of Washington County, the daughter of the late Willis Evans Hattaway and the late Katie Ray Simmons Hattaway. She was the wife of the late Roger Seymour Chapman and was preceded in death by a sister, Ruth Hattaway Hodges. Mrs. Chapman was a former salesclerk for Tennille Drug company and Sandersville Drug Company. She was a member of Piney Mount United Methodist Church, the Piney Mount Missions Society, the Adult Sunday School Class, and the Piney Mount Homemakers Club.
Survivors include her two daughters, Gail Chapman Keyser of Mitchell and Dianne Whiddon of Tennille; son, Roger Steve Chapman of Tennille; six grandchildren; fourteen great-grandchildren; and six great-great-grandchildren.
The family suggest that donations be made to Piney Mount United Methodist Church c/o P.O. Box 575, Sandersville, Georgia 31082
The family will receive friends at May and Smith Funeral Home from 4:00 P.M. until 5:30 P.M. on Tuesday.
May and Smith Funeral Directors in Sandersville is in charge of the arrangements.