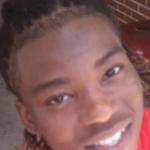 Mr. Montico Maze passed away on Saturday, April 3, 2021. Graveside funeral services will be held on Sunday, April 11, 2021 at 1:00 P.M. at the Georgia Grove Baptist Church with Elder Jessie Mountain officiating.
Mr. Maze is survived by two children, Master Makai Maze, Sandersville and Master Mason Bynes, Tennille; mother, Ms. Felicia Henderson, Tennille; father, Mr. Tyrone Maze, Atlanta; three brothers, Mr. Monterrio Maze, Tennille, Mr. Monquez Henderson, Tennille, and Mr. Jordan Maze, Atlanta; and a host of other relatives and friends.
M.C. Smith Funeral Home in charge.