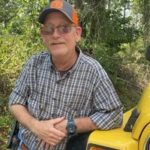 Jeffrey Charles Garner, age 57, of Sandersville, passed away on Wednesday, September 8, 2021. A graveside funeral service to celebrate his life will be held on Sunday at 2:00 P.M. in the Brownwood Cemetery of Sandersville. Reverend L.T. Logue and Reverend Josh Garner will officiate. Pallbearers will be Ray Beggs, Tim Dominey, Gary Lawrence, Stanley Mathis, Randy Tucker, Bobby Walker, Larry Warthen, and Chuck Wright.
Jeffrey was a native and lifelong resident of Washington County. He graduated from the Washington County High School in 1982 and soon began a career in the Kaolin Industry at the age of 18. He started work with Anglo American Clays and was most recently employed by Kamin as a machine operator. Jeffrey was a very close to his "work family," who all referred to him by his nickname, "Slow Drag." His family and pets were dearest to him. Jeffrey loved fishing, hunting, playing golf, simply being outdoors, working in his yard, and being a Georgia Tech football fan. He was a member of the Piney Mount United Methodist Church. Jeffrey is preceded in death by his father, Clarence Jefferson Garner; his sister, Melissa Garner; and his niece, Madison Brantley.
Survivors include his wife, Jennifer Denton Garner; children, Charles Landon Garner and his fiancé Hannah Durden and Mabrey Ann Garner all of Sandersville; his mother, JoAnne Wommack Garner of Sandersville; his siblings, Ken Garner and his wife Candi and Eric Garner and his significant other Kristy Harris both of Sandersville, and Joseph Garner and his wife Ryan of Saluda, South Carolina; his aunts, JoAnne Parlier and her family, Dorothy W. David-Brantley and her husband Billy her and family; his nieces and nephews, Josh Garner and his wife McCall, Brad Garner and his wife Brittany, Deric Garner and his fiancé Ashley Cabe, Ian Garner, Cameron Hughes and his wife Jessie, Merritt Garner, Chamberlin Garner, Dalton Garner, Jordan Garner, Luke Denton, Thomas Denton, Zach Denton, Emma Brantley, and Ethan Brantley; his great-nieces and great-nephews; and special friends Amy Garner, Mary Murphy, and Keahn Flournoy.
The family will receive friends on Saturday from 3:00 P.M. until 5:00 P.M. at the May and Smith Funeral Home in Sandersville while adhering to social distancing practices.
Online condolences may be expressed at mayandsmithfuneraldirectors.com.
May and Smith Funeral Directors is in charge of these arrangements.