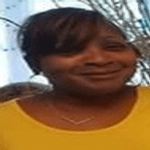 Mrs. Sharon Denise Cooper passed away on Thursday, September 12, 2021 at the Washington County Regional Medical Center. Graveside funeral services will be held on Sunday, September 12th at 1:00 P.M. in the New Baptist Church in Sandersville. Reverend Johnny Ray Sampson will officiate.
Visitation will be held on Saturday, September 11th from 12:00 P.M. until 6:00 P.M. in the LM Pierce Funeral Home's Clara-Minnie Memorial Chapel.
The family requests the following of Centers for Disease Control guidelines for the wearing of face masks and practicing of social distancing. They may be contacted at 601 East South Central Avenue in Tennille.
Online condolences may be expressed at lmpiercefuneralhome.com.
L.M. Pierce Funeral Home in charge.