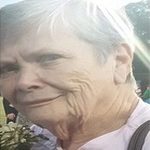 Mrs. Phyllis Andrews Carpenter, age 77, of Deepstep passed away on Sunday, September 12, 2021 at the Washington County Regional Medical Center. A memorial service to celebrate her life will be held on Saturday, September 25th at 10:00 A.M. in the outdoor amphitheater of the Smyrna Baptist Church in Deepstep. Russell Brown will officiate.
Phyllis was a native of Washington County, reared on her family's dairy farm in Deepstep. She was the daughter of the late Andrew Felson Andrews and the late Mary Pierce Andrews. Mrs. Carpenter graduated from the Washington County High School in 1962 and continued her education at the Woman's College of Georgia in Milledgeville, where she would meet her husband, John David Carpenter. Phyllis and John raised their family in the states of Maryland and Georgia. She worked as a social worker for the Georgia Department of Family and Children's Services. Mrs. Carpenter possessed a passion for reading, loved collecting light houses, and through her talents with arts and crafts, created beautiful Christmas ornaments. Phyllis was a member and Sunday School Teacher at the Smyrna Baptist Church. In addition to her parents, she is preceded in death by her husband, John David Carpenter Sr., and her brother, Pierce Andrews.
Survivors include her children, John David Carpenter II and his wife Angela of Ivey and Candis C. Peeler and her husband Jody of Deepstep; grandchildren, Morgan Lanier, Christian Lanier, Jennifer Hodges and her husband Brian, Johnathan Mason, Katelyn Peeler, Alan Peeler, Brandy Nicholson, and Brandon Eubanks; siblings, Uldena Denton and her husband Al and Al Andrews and his wife Kyla all of Deepstep; sister-in-law, Joyce Andrews of Conyers; and many nieces and nephews.
Donations may be made to the Smyrna Baptist Church, 857 Smyrna Church Road, Sandersville, Georgia 31082 or to R.C. Ministries, 18555 North Sparta-Davisboro Road, Warthen, Georgia 31094.
Online condolences may be expressed at mayandsmithfuneraldirectors.com.
May and Smith Funeral Directors is in charge of these arrangements.