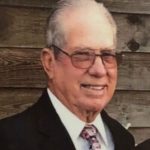 Mr. Byron Carter, age 87, of New Road in Sandersville passed away on Thursday, September 23, 2021 at his residence. A funeral service celebrating his life will be held on Sunday, September 26th at 3:00 P.M. in the Sisters Baptist Church with burial in the Church Cemetery. Reverend Burt Parker will officiate. Pallbearers will be Rudolph Darrisaw, Sonny Jackson, Jack Smith, Jeff Smith, Bobby Walker, and David Youngblood.
Mr. Carter was born and reared in Soperton, the son of the late Martin Thomas Carter and the late Zemmie Hammock Carter. He graduated from the Soperton High School and soon after married his high school sweetheart, Gerladine, prior to enlisting in the United States Army to proudly serve his country. Byron and Geraldine moved to Sandersville in 1968 and opened one of the inaugural Farmers Furniture Stores. Mr. Carter was a founding member of the Farmer Furniture Presidents Club and held membership until his retirement. He possessed a lifelong love of farming, gardening, and growing azaleas. Byron was a member of Sisters Baptist Church and the Sisters Baptist Church Silent Seekers Sunday School Class. Mr. Carter is preceded in death by his wife, Geraldine B. Carter; and siblings, Carlos Carter, Lula Mae Carter Howell, James E. Carter, Herschel Carter, Brunell Carter Willis Coleman, Brinson "Dick" Carter, and Chan Carter.
Survivors include his children, Pam C. Woods (Wesley Sheppard) and Eddie Carter (Kelli) all of Sandersville; grandchildren, Jonathan Woods (Katy), Kyle Woods (Heather), and Annie Lynn Carter; great-granddaughters, Karlee Grant (Dustin) and Morgan Woods; step-great-grandchildren, Maddox Glenn and Madyson Smith; one great-great-grandson, Korbin Grant; siblings, Garlon Carter (Arelia) of Soperton and Ocala Carter Morris of Higgston; and longtime family friend and caregiver, Rudolph Darrisaw.
The family will greet friends on Sunday, September 26 from 2:00 P.M. until the hour of the service at 3:00 P.M.
Donations may be made to Sisters Baptist Church, 1807 Eeast McCarty Street, Sandersville, Georgia 31082.
Online condolences may be expressed at mayandsmithfuneraldirectors.com.
May and Smith Funeral Directors is in charge of these arrangements.