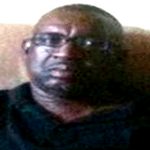 Mr. Charles Darnell Darrisaw, Sr. of Sandersville passed away with the New Year at 1:30 A.M. on Saturday, January 1, 2022, as an angel whispered in his ear, releasing him from his Earthly home to his Heavenly reward. Graveside funeral services were held on Saturday, January 8, 2022, at 2:00 P.M. in the Woodlawn City Cemetery with Minister Clifford Merrell officiating.
Mr. Darrisaw was born on July 24, 1954, to the parentage of Mrs. Willie Pearl Darrisaw and the late Mr. Willie L. Darrisaw. He was raised by his mother along with his siblings in Oconee. Charles attended the public schools of Washington County and graduated from the Washington County High School. Mr. Darrisaw began his working career as a responsible young man at the Oconee Center Nursing Home. He provided patient care, tended to housekeeping, and handled additional capacities as needed. He loved being a help to the elderly and others, working in Oconee for over twenty-five (25) years. After leaving the nursing center, Charles began a career with the Department of Transportation, where he worked for many years until his health failed. On March 7, 1980, Mr. Darrisaw married the former Ms. Lorine Watts. He was preceded in death a sister, Ms. Brenda Hall.
Mr. Darrisaw leaves to cherish his memories, one son, Mr. Charles (Santina) Darrisaw, Jr., Milledgeville; three daughters, Ms. Serika Watts, Milledgeville, Ms. Ayanna Darrisaw, Sandersville, and Ms. LeAndra Darrisaw, Sandersville; mother, Ms. Willie Pearl Archer, Sandersville; four brothers, Mr. Edward (Patricia) Mathis, Davisboro, Mr. Stanley (Philisa) Mathis, Davisboro, Georgia, Mr. Danny (Pamela) Mathis, Florida, and Mr. Phil (June) Darrisaw, Snellville; three sisters, Ms. Linda Watts, Milledgeville, Ms. Cathy Mathis, Florida, and Ms. Pamela Gunn, Conyers; fourteen granddaughters and four grandsons whom he cherished and loved; and a host of nieces, nephews, other relatives, and friends.
M. C. Smith Funeral Home in charge.