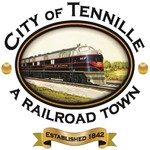 Following a pair of COVID-19 caused cancellations in 2020 and 2021, the popular Tennille BBQ Blast returns this weekend!
The two-day event will take place on Friday, September 23 and Saturday, September 24 in Downtown Tennille.
Festivities begin on Friday night from 5:00 p.m. to 10:30 p.m. and continue all day Saturday from 10:00 a.m. to 10:30 p.m.
This year's beloved BBQ Blast is set to feature live music, food/non-food vendors, and a fireworks display at night.
DJ Kunta will be on-site in the Downtown Square providing the soundtrack of the exciting weekend.
Live performers on Friday night include the Sandersville Line Dancers at 7:00 p.m. and the Fall Line Ramblers from 8:00 p.m. to 10:00 p.m.
Saturday's slate will present the New Birth Christian Ministries Choir at 4:00 p.m. and the Tony Howard Show performing the biggest hits of Aretha Franklin and The Temptations from 7:30 p.m. to 10:30 p.m.
Downtown Tennille merchants and restaurants will remain open for patrons to shop and dine while browsing the revitalized area.
The Tennille BBQ Blast is sponsored by the Tennille Downtown Development Authority.