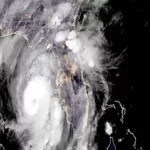 With the impending effects of a potential Category 4 Hurricane Idalia entering Washington County today, multiple in-county and surrounding county schools have altered their learning schedules.
Following consistent communication with the Washington County Emergency Management Agency on Tuesday, Washington County Public Schools have shifted to their at-home learning module on Wednesday, August 30. All in-person school related activities have been cancelled.
Due to the forecast of significant rainfall and powerful gusts of wind, Brentwood School has also cancelled in-person classes and all after school events.
Additional nearby school closures of interest include the Glascock County Public Schools and all campuses of the Oconee Fall Line Technical College.
As Wednesday progresses, an assessment of the storm's impact on school systems will determine if in-person classes will resume on Thursday, August 31.
The Washington County Public School District asks that parents and guardians monitor Parent Square,
Facebook
, the
school website
, and local media for updates.
On Tuesday, Georgia Governor Brian Kemp issued a State of Emergency order for all of Georgia in preparation for Hurricane Idalia's anticipated impact this week. Currently, the storm system is expected to move through the state today, bringing heavy rainfall and damaging winds throughout Southeast Georgia.
Idalia was officially classified as a hurricane on Monday night and is rapidly intensifying to major hurricane status, making landfall along the Florida Big Bend today as a Category 3 or 4 hurricane. Multiple Southeast Georgia counties are currently under a Hurricane Warning or Hurricane Watch.
Washington and surrounding counties are under observance of a Tropical Storm Warning with the expectation of either hurricane-force or tropical storm-force conditions.
Hurricane Idalia will make severe impacts along the Florida Big Bend on Wednesday morning and weaken as it moves inland towards southern Georgia. The storm is expected to continue to move through the state before exiting Georgia tonight.
Primary hazards will be strong winds and heavy rainfall causing widespread debris, power outages, and localized flash flooding. Widespread 40 to 50 mph wind gusts are possible across South and East-Central Georgia. Falling trees and power lines could cause widespread power outages and life-safety issues. Rainfall amounts of 4 to 6 inches will be common across Southeastern Georgia.
Georgians are encouraged to remain weather alert and to take the necessary precautions to protect themselves and their families.
Statewide, Georgia Department of Transportation (DOT) crews of nearly 1,200 employees with access to over 1,100 pieces of vital equipment and vehicles are prepared to activate and deploy as needed.
The Department of Transportation advises motorists to be wary of the possibility for falling trees due to high winds. Georgia DOT is currently engaged in the removal of trees and overgrown brush along state rights-of-way in an effort to mitigate the possibility of falling trees across roadways.
Motorists should also take caution and be prepared to turn around when encountering water in the road.
The DOT advises individuals to never attempt to clear debris from the roads, as downed live power lines can be entangled in fallen trees and branches.
Additionally, motorists are reminded to treat intersections with non-operational signals as a four-way stop.