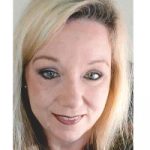 Mrs. Stacey Vanessa Branan Taylor, age 42, of Sandersville, died on Sunday, July 21, 2019. Funeral services will be held at 2:00 P.M. Thursday, July 25 in May and Smith Funeral Home Chapel with burial in Brownwood Cemetery.  Reverend Lamar Brantley and Reverend Chad Waller will officiate.  Pallbearers will be Jonathan Beal, Matthew Edwards, Jim Branan, David Branan, Quinton Morris and John Hollie.
Mrs. Taylor was a lifelong resident of Washington County, the daughter of the late Patricia Tanner Prince and sister of the late Renee Edwards.  She was graduate of Sandersville Technical College as a licensed practical nurse.  She was an LPN with Next Step Care in Wrightsville.  Mrs. Taylor attended the Good Shepherd Church of the Nazarene.
Survivors are her husband, Tony B. Taylor of Sandersville; son, Vincent "Bo" Taylor of Sandersville; father, Lewis Van Branan of Sandersville; step mother, Violet Thompson Branan of Sandersville; sisters, Kimberly Hope Forehand and her husband Erik of Athens, Robin Denise Hensley of Sandersville; brothers, Timothy Clayton Beal  and his wife Barbara of Sandersville, Kevin Morris and his wife Ann of Sandersville and Don Prince , Jr. of Russellville AL; and close friends, Sandi Smith of Sandersville, Shannon Knowles of Tennille and Sarah Handwerker of McIntyre.
The family will receive friends at May and Smith Funeral Home from 5:00 until 7:00 P.M. on Wednesday.
May and Smith Funeral Directors in Sandersville is in charge of the arrangements.