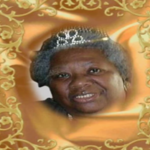 Ms. Marilyn Walden of Sandersville, Georgia passed away on Saturday, February 20, 2021 at the Washington County Regional Medical Center. Graveside funeral services were held on Wednesday, February 24, 2021 at 11:00 A.M. at the Marshall Grove Baptist Church with Apostle Dynetta Worthen officiating.
She was born on November 18, 1950 in Sandersville, Georgia to the parentage of the late Mr. Jessie Walden, Sr. and the late Mrs. Pecolia Walden. Ms. Walden graduated from T.J. Elder High School. She was employed by the Sandersville Elementary School until her retirement. At an early age, she joined Marshall Grove Baptist Church, where she faithfully served. She was preceded in death by three siblings, Mrs. Lizzie Reese, Mr. Ricky Walden, and Mr. Jessie Walden, Jr.
Ms. Walden leaves to cherish her memories, one brother, Dr. Maurice (Delois) Walden, Tennille; four sisters, Mrs. Velma (William) Langford, Ms. Patricia Walden, Atlanta, Mrs. Katherine Harris, Sandersville, and Mrs. Doris Darrisaw, Aiken, South Carolina; two aunts, Mrs. Lula Mae Walden, Oconee and Mrs. Ruth Walden, Sandersville; devoted friend, Mrs. Marilyn Pearson, Sandersville; and a host of devoted nieces, nephews, other relatives, and friends.
M.C. Smith Funeral Home in charge.