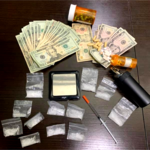 One arrest was made after a Thursday, April 1 search was conducted at a residence on Watermelon Road in Tennille.
According to Washington County Sheriff Joel Cochran, deputies with the Washington County Sheriff's Office were assisted by the Ocmulgee Drug Task Force and the Department of Community Supervision.
Sheriff Cochran stated that the April 1 search yielded a quantity of methamphetamine, various prescription medications, and drug paraphernalia.
Arrested following the search was 41-year-old Kristy Louise Brantley.
Brantley is charged with possession of methamphetamine with intent to distribute, trafficking in methamphetamine, three counts of possession of controlled substance, and possession of drug related objects.
She is booked in the Washington County Jail.
According to Sheriff Cochran, additional charges are pending.