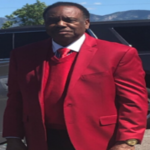 Apostle Cail Morris, Sr., formerly of Sandersville, passed away on Friday, June 18, 2021 in Albuquerque, New Mexico. Funeral services will be on Friday, July 2, at 10:00 A.M. at the Oak Grove Baptist Church in Sandersville. Interment will be in the Georgia Veteran Memorial Cemetery in Milledgeville at 1:00 P.M.
The family will receive friends on Friday morning at 9:15 A.M. in front of their house at 321 North Hospital Road in Sandersville.
Centers for Disease Control COVID-19 protocols will be followed. The wearing of face masks will be required.
To express online condolences, please visit lmpiercefuneralhome.com.