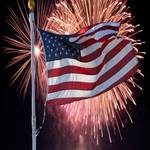 If you enjoyed the City of Davisboro's Independence Day Celebration held on Saturday, June 26, and want a second chance to celebrate, Johnson County's festivities begin Wednesday, June 30 and continue through Saturday, July 3.
A religious service and music will take place on Wednesday, June 30 beginning at 7 p.m. on the square in Wrightsville.
On Friday, July 2 arts and crafts vendors will be on the square beginning at 7 p.m. The fireworks display will take place that evening at the Johnson County Recreation Department at approximately 9:15 p.m. followed by a street dance on the courthouse square featuring Raisin' Helton.
The festivities continue on Saturday, July 3 with the annual Firecracker 5K run sponsored by the Wrightsville Rotary Club; the run begins at 8 a.m.
The official welcome speech will take place on Saturday morning at 9:30 a.m. followed by the Fourth of July parade at 10 a.m. This year's parade will feature veterans as the Grand Marshals. Arts and crafts continue throughout Saturday. A BBQ lunch sponsored by the Pizza Place will take place will be available from 11 a.m. until 2 p.m.
At 1 p.m. those in attendance will enjoy a pet show, followed by the annual turtle race at 1:30 p.m.
The Pedal Tractor Race, sponsored by the JOCO Young Farmers will take place at 2 p.m. on Saturday, July 3.