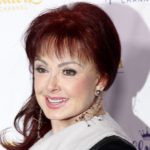 Country legend Naomi Judd has been honored after being inducted into the Women Songwriters Hall of Fame. Naomi, a member of the hit making mother-daughter duo 'The Judds,' earned Grammy honors and a string of country hits through the '80s and '90s with her daughter, Wynonna Judd.  Naomi was also a co-writer behind the anthem, "Love Can Build a Bridge," and went onto a successful acting career.
Said Naomi: "It's always gratifying when someone acknowledges your best efforts. I love expressing my deepest feelings as I did in writing 'Love Can Build a Bridge.' Not only was I being celebrated at this auspicious event in Washington, D.C., I was among other accomplished songwriters. It was fun to reconnect with Valerie Simpson of Ashford & Simpson fame. We met years ago. A good time was had by all!"
Other women honored for their songwriting were Valerie Simpson, Mary Chapin Carpenter, Roberta Flack, Tawatha Agee, Klymaxx, Deniece Williams, Jeri Keever "Bunny" Hull and Veryl Howard. Along with Judd, they became the first artists to be enshrined in the new Hall, which is located inside the National Museum of Women in the Arts.
Editorial credit: Joe Seer / Shutterstock.com