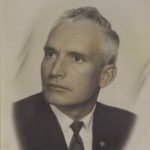 Mr. Luke Peavy, age 91, of Peavy Lane in Warthen passed away Tuesday, August 24, 2021, at his residence following an extended illness. A graveside funeral service will be held on Friday, August 27th at 11:00 A.M. in the Union Baptist Church Cemetery. Reverend Roy Smith and Maura Peavy will officiate. The practicing of social distancing will be observed.
Mr. Peavy was a native and lifelong resident of Washington County, the son of the late Harris Peavy and the late Julia Piltcher Peavy. Luke possessed a strong work ethic for his entire life. He began his working career in his youth at the Naval Ordinance Plant in Milledgeville in 1943. Mr. Peavy began an over 50-year career with Washington EMC in 1953, operating on right-of-ways before retiring as a dispatcher. He and his wife, Annette, were lifetime farmers, working side-by-side with other family members on their farm. They owned and operated Peavy Egg Company, selling eggs to grocery retailers throughout the area. He possessed lasting loves of hunting and fishing. Luke was an active member of the Union Baptist Church, where he served as a deacon. Mr. Peavy is preceded in death by his wife, Annette Peavy, and siblings, Harris Peavy, Calving Peavy, Sr., H.P. Peavy, Nell P. Harris, Zena P. Page, Paulene P. Cook, and Julia P. Brown.
Survivors include his sons, Ronnie Peavy and his wife Arleen of Warthen and Randy Peavy and his wife Sherry of Sandersville; grandchildren, Tonya P. Bowen and her husband John of Conyers, Christopher Peavy and his wife Maura of Warthen; great-grandchildren, Savannah Grace Peavy and Jordan Bowen; and special caregivers, Louise, Pat, and Mary.
Donations may be made to the Union Baptist Church Cemetery Fund., c/o Ronnie Peavy 490 Peavy Lane, Warthen, Georgia 31094.
Online condolences may be expressed at mayandsmithfuneraldirectors.com.
May and Smith Funeral Directors is in charge of these arrangements.