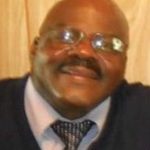 Mr. Jethroe Warthen, Jr. passed away on Sunday, September 5, 2021 in Augusta. Graveside funeral services were held on Sunday, September 12, 2021 at 1:00 P.M. at the Woodlawn Cemetery with Reverend Rose Mackey officiating.
On Wednesday, October 1, 1952, Mr. Warthen, know as "WoWo" to family and friends, became the first born of nine children to the late Mrs. Doris Floyd Warthen and the late Mr. Jethroe Warthen, Sr. of Sandersville. He was a proud graduate of the Washington County High School, Class of 1971, the first integrated class in Sandersville. He was joined in holy matrimony to his beloved wife, Mrs. Ollie Mae Warthen, on June 29, 1979, and from their union, five children were born. Mr. Warthen was a thirty-four year retiree of the Georgia Department of Transportation in Tennille. Jethroe was known as a hard worker and a dedicated husband, father, brother, uncle, cousin, and friend.
Mr. Warthen leaves to cherish his memories, his wife, Mrs. Ollie Mae Warthen, Sandersville; sons, Mr. Jeff (Griselle) Warthen, Cochran and Mr. Julius (Angelica) Warthen, Victorville, California; daughters, Ms. Doris Louise Warthen, Sandersville, Ms. Diana Warthen (Ben Wheeler), Sandersville, and Mrs. Mary Olivia (Nigel) Guy, Cairo; grandchildren, Jarius Marquis Clayton-Warthen, James Augustus Copithorne, Yirmeyah Watts, Hizqiyah Warthen, Yosiyah Warthen, Trinah Watts, Zion Warthen, Marcos Warthen, Niyan Marik Guy, and Nehemiah Warthen; brothers, Mr. Clinton Warthen, Sr., Mr. Stan Warthen, Sr., Mr. Randolph Warthen, and Mr. Emory Warthen, all of Sandersville; sisters, Mrs. Dorothy Mae Barnette, Ms. Marie Warthen, and Mrs. Elaine Biggins, all of Sandersville, and Mrs. Notia Mae (Renard) Warthen Peyton, Indianapolis, Indiana; and a host of nephews, nieces, other relatives, and friends.
M. C. Smith Funeral Home in charge.