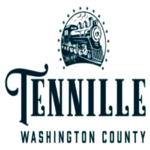 Tennille Mayor and City Council welcomed three new employees to the City of Tennille during their Monday, November 15 City Council meeting.
Tennille Mayor Eartha Cummings began the City Council meeting by recognizing the three new City employees.
"It is with great pleasure to be able to introduce to the City Council our new staff that we have," said Mayor Cummings.
During the Monday, November 1 City Council meeting, Tennille Mayor and Council spent nearly an hour in a closed meeting to review applications and resumes to fill three vacant administrative positions with the City of Tennille.
Three individuals were selected at the Monday, November 1 meeting to fill the following positions: City Clerk, Assistant City Clerk, and Municipal Court Clerk.
The three new employees were present at the Monday, November 15 City Council meeting.
Danielle Ferguson will serve as Tennille City Clerk. In her resume, Ferguson described herself as an organized and ambitious planner with expertise in managing costs and budgets while providing unforgettable experiences. She also described herself as a customer-oriented time manager and a decisive leader.
Tennille City Council selected Jennie Little as Assistant City Clerk. Little described herself as an award-winning retail sales and customer service expert; she consistently met commission-based sales goals, is a quick and effective decision maker who maintains excellent customer service throughout the sales process.
Tanisha Ball will serve as Tennille Municipal Court Clerk. Ball has worked with the Emanuel Women's Facility since 2018 where she was a Correctional Sergeant. While working at the Emanuel Women's Facility she ensured all rules, policies and procedures were followed per the standard operations procedures.
Mayor Pro-Tem Brainard Crawford commended the City's personnel committee for their work during the hiring process.
"I'm looking forward to great things from the City employees as far as City Hall is concerned," said Mayor Pro-Tem Crawford.