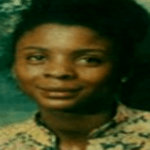 Ms. Marie Warthen passed away on Monday, May 15, 2023, at her residence. Graveside funeral services will be held on Tuesday, May 23 at 11:00 A.M. in the Woodlawn City Cemetery of Sandersville with Reverend Henry L. Tanner officiating.
Ms. Warthen is survived by her siblings, Clinton Warthen, Sr., Stanley Warthen, Randolph Warthen, Emory Warthen, Dorothy Mae Barnette, and Elaine Biggins all of Sandersville, and Notia Mae Warthen of Indianapolis, Indiana; uncle: Julius Warthen of Sandersville; and a host of nieces, nephews, other relatives and friends.
M.C. Smith Funeral Home in charge.