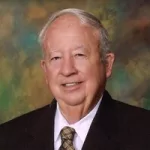 Mr. Marion Meeks, Sr., age 86, of Sandersville passed away on Sunday, August 13, 2023, at the Washington County Extended Care Facility. A funeral service to celebrate his life will be held on Thursday, August 17th at 2:00 P.M. in the Sister's Baptist Church of Sandersville with burial to follow in the Zeta Cemetery of Tennille. Reverend Burt Parker and Reverend Ronnie Duncan will officiate. Pallbearers will be John Britt, Gene Deal, Ryan Dixon, Daniel Durham, Peyton Janes, and Kevin Meeks. The family will receive friends on Thursday from 1:00 P.M. until the hour of the service in the Church Sanctuary.
Mr. Meeks was a lifelong resident of Washington County, the son of the late George Marion Meeks and the late Irene Brown Meeks. He was a 1955 graduate of the Tennille High School and proudly served his country in the United States Army. Marion was the owner and operator of Meeks Tractor Company for 38 years. Mr. Meeks was a former member of the Ag Georgia Farm Credit Board, the Washington County Hospital Authority, and the Tennille Rotary Club. He enjoyed spending time as a cattleman on his family farm. Marion was a member and Deacon for the Sister's Baptist Church. He was preceded in death by his siblings, Troy Meeks, Betty Thackery, and Earl Meeks.
Mr. Meeks is survived by his loving wife of 63 years, Alice Turk Meeks; daughter, Becky Durham and husband Dan of Greensboro; son, Joe Meeks of Sandersville; grandchildren, Daniel Durham and wife Kensley and Dana Janes and husband Peyton; great-grandchildren, Walker Durham, Ellie Jo Durham, and Aaron "A.J." Janes; and siblings, Mack Meeks and wife Charlotte of Amelia Island, Florida, George Meeks and wife Lois of Winder, and Elaine Adams of Harrison.
The family suggests that donations be made to the Sister's Baptist Church, 1807 East McCarty Street, Sandersville, Georgia 31082.
Online condolences may be expressed at mayandsmithfuneraldirectors.com.
May and Smith Funeral Directors is in charge of these arrangements.