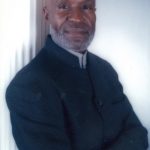 Mr. Andrew Johnny Kitchen peacefully departed this life on Wednesday, February 27, 2019. Funeral services were held on Saturday, March  9, 2019 at 3:00 P.M. at Second Mineral Spring Baptist Church with Rev. Perry Davis officiating. Interment was held in the church cemetery.
He was the second oldest of nine children born in Washington County, Georgia on November 20, 1946 to the parentage of the late Mr. John C. Kitchen and the late Mrs. Susie Lee Tucker Kitchen.
Mr. Kitchen attended the public schools of Chattanooga, TN and graduated from Howard High School. He went on to further his education at Tuskegee University.
As a teenager in Chattanooga, Andrew was an amazing and forward thinker and displayed notable leadership skills. Along with being the co-captain of the football team, he was President of his class. He saw a need for more camaraderie and involvement in positive social activities for young men who lived near Howard. Under the guidance of adult advisors, he organized the Majestics Social Club in 1964 and attracted the interest from relatives, friends and associates. The activities they engaged in included distributing baskets to the needy during holidays, singing to residents at nursing homes and competing in sports against other social clubs in the city. After graduating from high school, his younger brothers served as presidents until the club became inactive in 1972.
Andrew worked for Atlantic Steel, Georgia Perimeter College, Crawford Broadcast Communication and most recently for the past six years Washington County Board of Education.
He was preceded in death by a son: Mr. Tracy L. Moss and two brothers: Mr. John Kitchens, Jr. and Mr. Charlie West Kitchen.
Mr. Kitchen leaves to cherish his memories a loving wife: Mrs. Angela Kitchen, Warthen, GA; children: Ms. Zeporria Kitchen, Sandersville, GA, Mr. Aundres Kitchen, Warthen, GA, Mrs. D'Andrea (Chucky) Smoot, Mr. DiQuane Kitchen, Sr., Ms. Latria Kitchen, Atlanta, GA, Mr. John Cummings, Warthen, GA;  God-children: Mrs. Lynn (Mark) Byous, Ms. Amber Pledge, Atlanta, GA, Ms. Nikayla Johnson, Mr. Danford Jordan, Jr., Sandersville, GA; three sisters: Ms. Nina Kitchen, Atlanta, GA, Ms. Betty Freeman, Chattanooga, TN, Mrs. Lennette (Ronald) Clark, Ooltewah, TN; three brothers: Mr. Robert (Carla) Kitchen, Mr. Eddie (Alyce) Kitchen, Chattanooga, TN, Minister Bobby (Gloria) Kitchen, Sparta, GA; four sisters-in-law: Mrs. Joyce (Willie) Garner, Mrs. Catherine (Gary) Johnson, Ms. Betty Hodges, Sandersville, GA, Mrs. Darlene (Mike) Taylor, Atlanta, GA; one brother-in-law: Mr. Freddie Daniels, Atlanta, GA; four aunts: Mrs. Dannie Mae Kitchens, Mitchell, GA, Mrs. Brenda Williams, Atlanta, GA, Mrs. Geneva Bell, Chattanooga, TN, Mrs. Kristine Tucker Kitchens, Sparta, GA; grandchildren: Dorian Brown, DiQuane Kitchen, Jr., Dashonna Shivers, Meilani Kitchen, Dandra Jackson, Miguel Hagans, Jaydra Moss, Oren Cummings, Abriana Cummings, Jamari Cummings; great grandchildren: Ja'Niah Moss, Kailee Bridges, Jaden Shivers, Valerie Cummings, John B. Cummings, Paris Cummings, Marayah Cummings; a host of nieces, nephews, cousins, other relatives and friends.
M.C. Smith Funeral Home in charge.