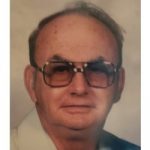 Mr. John Shelton Larimore, age 85, of Sandersville died on Saturday September 7, 2019 in the Veterans Hospital in Dublin. Funeral services will be held at 11:00 A.M. Tuesday September 10 at May and Smith Funeral Home Chapel in Sandersville with burial in Brownwood Cemetery in Sandersville. Reverend Danny Thomas will officiate.
Mr. Larimore was a native and lifelong resident of Washington County, the son of the late John Calhoun Larimore and the late Bessie Mary Smith Larimore.  He was the husband of the late Annette Waller Larimore and was preceded in death by a grandson, John Jared Larimore.  Mr. Larimore was a retired operator for ECCI.  He was a member of the First Church of the Nazarene and an army veteran of the Korean Conflict.
Survivors include:  two sons, John William Larimore of Sandersville and James Ron Larimore and his wife Cameron of Sandersville; two daughters, Sherry Larimore Woodall and her husband Tim of Nicholson and Pamela Denise Larimore of Gainesville; daughter in law, Georgia Larimore of Sandersville;  six grandchildren, David Morgan, Miranda Pool, Dakota Larimore, Taylor Mac Larimore, Dylan Steadman and Destiny Steadman; five great grandchildren, Caydon Larimore, Grayson Larimore, Bryceson Larimore, Shiloh Pool and Avah Steadman.
The family will receive friends at May and Smith Funeral Home in Sandersville from 5:00 until 7:00 P.M. on Monday.
May and Smith Funeral Directors in Sandersville is in charge of the arrangements.