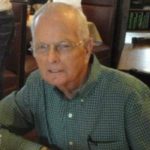 Mr. William T. "Billy" Pittman, age 91, of Sandersville passed away on Friday, February 19, 2021. A graveside funeral service will be held at 2:00 P.M. on Tuesday, February 23 at the Brownwood Cemetery in Sandersville. Reverend Danny Thomas and Reverend Gary Griffin will officiate.
Mr. Pittman was a native and lifelong resident of Washington County, the son of the late Haywood W. Pittman, Sr. and the late Mattie Bell Walters. He was preceded in death by a daughter, Karen Prince, son Stuart Pittman, sisters, Louise P. Mills and Ann P. Davis, and brothers, Wesley Pittman and Talmadge Pittman. He was a retired electrician with AICC and Georgia Kaolin. He was an Air Force Veteran. Mr. Pittman was a devoted member of the Piney Mount United Methodist Church, where he served as Chairman of the Board for several years. He was a longtime member of the Methodist Men's Club. He was well known for his skilled carpentry and love of woodwork. Mr. Pittman's final project was building a doll house for his great-granddaughter.
Survivors include his wife of sixty-nine years, Freddie Lacy Pittman of Sandersville; granddaughter, Laurie Prince Mathews of Milledgeville; grandsons, Jason N. Prince (Necie) of Sandersville, Judson M. Pittman (Bayley) of Canton, and Benjamin T. Pittman of Bronx, New York; great-grandchildren, Dakota Prince, Gage Mathews, Solomon Pittman, and Zoe Pittman; sister, Del Ray Humphries of Decatur; son-in-law, Jimmy Prince (Twanda); and daughter-in-law, Virginia DeLoach Pittman.
The family request donations to be made to the Christian Life Center, P.O. Box 5057, Sandersville, Georgia 31082 or to Piney Mount United Methodist Church, P.O. Box 575, Sandersville, Georgia 31082.
May and Smith Funeral Directors of Sandersville is in charge of these arrangements.