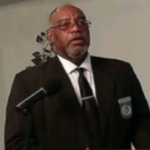 Reverend Brother Jerry Lee Dudley departed this life on Friday, February 26, 2021 at the Select Specialty Hospital in Augusta. Graveside funeral service will be held on Saturday, March 6, 2021 at 1:00 P.M. at the Rest Haven Memorial Cemetery in Sandersville. Pastor Donald Jordan will officiate.
Jerry was born on February 20, 1966 in Sandersville, Georgia to the parentage of the late Mr. Elbert Dudley, Jr. and the late Mrs. Tressie Lee Dudley. He was youngest of eight children. At an early age he joined Green Grove Baptist Church. Jerry received his education from the public schools of Washington County, graduating in 1984. After graduation, he started ministry work at an early age. He pastored at Green Grove Baptist Church, Bay Spring Baptist Church, and Jones Grove Missionary Baptist Church. Upon death, he was the pastor of Jones Grove Missionary Baptist Church in Louisville, where he had been the pastor for the past 25 years. Jerry was employed at Oconee Community Service Board in Milledgeville for many years. He was a member and Past Master of St. Andrew Lodge #32, Worthy Patron of Shiloh Chapter #8, District Associate Patron of Louisville Masonic District #22, member of Wadley Chapter #115 Holy Royal Arch Mason where he was a Honorary Past High Priest, member of Sandersville Council #18 Royal, Select Mason where he was the treasurer, member of Swainsboro Consistory #317, and Dannie L. Surry Commandery #33.
Jerry was preceded in death by his father, Elbert Dudley, Jr., his sister Mary Dudley Wiley, his brother, Terry Dudley, his god-brother, Charlie McCall III, and his nephew, Adam Dudley.
Reverend Brother Dudley leaves to cherish his memories, god-mother Diane McCall (Charlie) of Louisville; two sisters, Ms. Tressie Mae Braddy and Ms. Caroline Dudley both of Sandersville; three brothers, Mr. Gary Dudley of Hephzibah, and Mr. John Dudley and Mr. Melvin Dudley of Sandersville; one aunt, Bernice Jordan of Cleveland, Ohio; and a host of nieces, nephews, cousins, other relatives, and friends.
L.M. Pierce Funeral Home in charge.