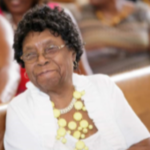 Mrs. Tressie Lee Dudley departed this life at her residence on February 27, 2021 after a life filled with joy and laughter. She will truly be missed by her children and grandchildren. Graveside funeral services will be held on Saturday, March 6, 2021 at 1:00 P.M. at the Rest Haven Memorial Cemetery in Sandersville. Pastor Donald Jordan will officiate.
Mrs. Tressie was born on May 8, 1932 to the late Mr. and Mrs. Pierce Jordan of Washington County. She was the last of twelve siblings. Mrs. Tressie joined the Green Grove Baptist Church at an early age. She was a faithful choir member and part of the Missionary Club until her health declined. She worked at Royal Manufacturing Company for 29 years as a sewing inspector. She was preceded in death by her husband Elbert Dudley, Jr; a daughter, Mary Dudley Wiley; sons, Terry Dudley and Reverend Jerry Dudley; one grandson, Adam Dudley; and a son-in-law, Willie James Wiley, Sr.
Mrs. Tressie leaves to cherish her memories two daughters, Ms. Tressie Mae Braddy and Ms. Caroline Dudley of Sandersville; three sons, Mr. John Dudley and Mr. Melvin Dudley of Sandersville and Mr. Gary Dudley of Hephzibah; two sisters-in-law, Mrs. Bernice Jordan of Cleveland, Ohio and Mrs. Catherine Ogbum of Atlanta; one brother-in-law, Mr. J.C. Ogbum of South Carolina; 12 grandchildren, 26 great grandchildren, and several nieces, nephews other relatives and friends.
L.M. Pierce Funeral Home in charge.