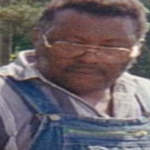 Mr. Henry Roach, passed away on Friday, April 2, 2021 at the Smith Medical Nursing Care Center. Graveside funeral services were held on Thursday, April 8, 2021 at 3:00 P.M. at the Second Mineral Springs Baptist Church with Reverend Robert Smith officiating.
Mr. Henry Lee Roach, known to many as "Pete," was born on March 10, 1932 in Washington County, Georgia. He was educated in the Washington County Public Schools System. At an early age, he joined the Second Mineral Spring Baptist Church. For several years, he worked at Imery's Clay Inc. in Sandersville from where he retired. "Pete" enjoyed riding and talking on the phone. He is now released from all of his earthly cares and pain. Memories of "Pete" will live on in the lives of his family and friends.
He was preceded in death by his wife, Mrs. Rosie Anna Roach; daughter, Ms. Mary Dixon; son, Mr. Robert Roach; and daughter-in-law, Mrs. Susie Roach.
Mr. Roach leaves to cherish his memories, one son, Mr. Alexander Roach, Sparta; one daughter-in-law, Mrs. Diane Roach, Sparta; three grandchildren, Mrs. Rosa (Van) Dennis, Warner Robins, Mrs. Lorvetta (Randy) Robbins, Sparta, and Ms. Ivy Rivers, Sparta; seven great-grandchildren, Drake, Chiquetta, Corey, Van Jr., Brian, Jamecia, and James Jr.;a host of great-great grandchildren; and a host of other relatives and friends.