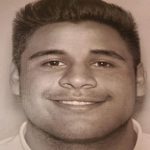 *** Update: According to law enforcement, Cruz turned himself in on Tuesday, April 27. ***
The Sandersville Police Department's Criminal Investigation Division is seeking the public's assistance in locating Oscar Fabian Cruz.
Cruz has an active warrant for aggravated assault; he is considered armed and dangerous.
Oscar Fabian Cruz is described as a 21-year-old Hispanic male with black hair and brown eyes. He is 5-feet, six inches tall, and weighs approximately 185 pounds.
Cruz's last known vehicle is a 2009 white four-door Chevrolet Impala with license plate PXY1028.
Anyone with information on Cruz's whereabouts is encouraged to contact the Sandersville Police Department by calling 478-552-3121 or the Department's Anonymous tip line at 478-552-6831 or the Sandersville Police Department's Investigator at 478-357-1720.