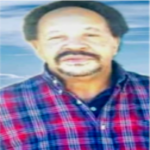 On Thursday, June 10, 2021, the unique life of the admirable, humble, and kind Donny Lee Devero, affectionately known as "Hammer," transitioned from this life to eternal rest, leaving a great void in the hearts of those who loved him. Graveside funeral services were held on Saturday, January 19, 2021 at 2:00 P.M. at the Burnette Grove AME Church in Tennille with Reverend Dave Hall officiating.
He was born on October 28, 1957 to the parentage of the late Mr. Climmie T. Devero and the late Mrs. Dorothy L. Devero. At a young age, he joined Burnett Grove AME Church. He was a Johnson County High School in the Class of 1976. On February 17, 1986, he was united in holy matrimony to Ms. Brenda Walker and to this union, one child was born. "Hammer" enjoyed dancing, singing, and most of all cooking for family and friends.
Mr. Devero leaves cherished memories to his loving wife, Mrs. Brenda Walker Devero; one son, Mr. Randy Donny Walker; two brothers, Mr. Danny L. Devero and Mr. Darrell F. Brown; three sister, Ms. Janice Martin, Mrs. Alisa (Glenn) Darrisaw, and Mrs. Arlene (Isaac) Bivens; four brothers-in-law, Mr. Roger (Bernice) Walker, Mr. Randolph (Gloria) Walker, Mr. Bobby     Walker, and Mr. James (Dorothy) Walker; three sisters-in-law, Ms. Pearlie Jordan, Ms. Angela Walker, and Ms. Betty Wiggins; two special aunts, Ms. Doris Gilmore and Ms. Lila London; devoted friend and God-sister, Ms. Donna Turner; and a host of aunts, uncles, other relatives, and friends.
M. C. Smith Funeral Home in charge.