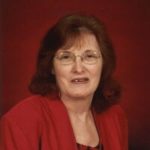 Mrs. Delores Karen Hunt Kornn, age 72, of Harrison passed away on Monday, July 12, 2021 at her residence following an extended illness. Funeral services will be held at 2:00 P.M. on Friday, July 16 in the May and Smith Funeral Home Chapel in Sandersville. Reverend Gary Griffin will officiate. Burial will follow in the Washington County Memorial Gardens Cemetary. Pallbearers will be Wayne Layton, Jimmy Prince, Brian Powers, Michael Dean Smith, Tony Smith, and Chuck Whiddon.
Mrs. Kornn was a native of Pittsfield, Massachusetts, the daughter of the late Charles Thomas Hunt, Jr. and the late Ruth Blanch Godfrey Hunt. She lived in Washington County for several of her later years and was a retired medical secretary for Dr. Mark Harvey. She was a member of the Piney Mount United Methodist Church. Delores will be remembered for her kind and loving heart.
Survivors include, her husband, Ralph Gilmer Kornn of Harrison; two sisters, Sharon Hunt of Metter and Diane Hunt of Kite; a brother, Charles Thomas Hunt, III and his wife Jane of Williamstown, Massachusetts; and several nieces and nephews.
The family would like to express their gratitude to Mrs. Kornn's loving caregivers, Mamie Burton, Tyrisha Cannon, Cynthia Chandler, Delois Cutler, and Mildred Lynch for their care during her illness.
In lieu of flowers, donations may be made in Mrs. Kornn's memory to the Piney Mount United Methodist Church, P.O. Box 575, Sandersville, Georgia 31082.
The family will greet friends at the May and Smith Funeral Home in Sandersville on Friday from 1:00 P.M. until the hour of service.
Online condolences may be expressed at mayandsmithfuneraldirectors.com.
May and Smith Funeral Directors is in charge of these arrangements.