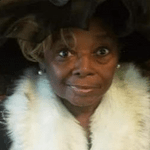 Mrs. Patricia J. Holley passed away on Friday, October 8, 2021 at Augusta University Medical Center in Augusta. Graveside funeral services were held on Saturday, October 16, 2021 at 1:00 P.M. in the Harrison Cemetery.
Mrs. Holley was born Patricia J. Tanner on January 26, 1951 to the parentage of the late Mrs. Annie Julia Miller Tanner and the late Mr. Tommie Louis Tanner. She attended the public schools of Washington County where she held an active social life alongside her many siblings. Patricia was a founding member of the Le Bonton Women's Social Club in Sandersville. As an adult, Mrs. Holley moved to Trenton, New Jersey and successfully obtained her GED. While in New Jersey, she met and married the late Mr. Lawrence Holley, whom she lovingly referred to as "Boo," but was best known as "Larry." Patricia was employed by the city of Trenton for many years working as a crossing guard. Mrs. Holley also drove school buses for Lorel Spellman Day Care and Rick's Bus Company of Lawrence, New Jersey. Additionally, she was a certified nursing assistant for Hamilton New Jersey Continuing Care. Patricia loved helping people, adored her grandchildren and siblings, and enjoyed Sunday breakfast and weekend fishing with her husband. Her favorite personal hobbies were going to the casino, thrift shopping with her sister, Ms. Linda Reeves, faithfully attending church, and spending time with her family.
Mrs. Holley is survived by her son, Mr. Terrance (Toshua) Tanner, Sr., Lawrence, New Jersey; step-daughters, Mrs. Juanza (Joseph) Grant, Detroit, Michigan, Ms. Belinda Holley, Ms. Regina Holley, and Ms. Melissa Holley, all of Trenton, New Jersey; six sisters, Ms. Tressie Anthony, Charlotte, North Carolina, Ms. Annie Mae Parker, Sandersville, Mrs. Melonease (Kenny) Jones, Tennille, Ms. Marilyn Salter, Sandersville, Mrs. Linda (Darryl) Reaves, Sandersville, and Ms. Shenita Armstrong, Columbia, Tennessee; two brothers, Reverend Henry L. Tanner, Tennille and Mr. Tommy Lee Tanner, Atlanta; five grandchildren, Mr. Terrance (Kasauna) Tanner, Jr., Athens, Mr. Taje' Tanner, Trenton, New Jersey, Mr. Tommy Tanner, Miami, Florida, Mr. Tyrone (Pamela) White Jr., Somerdale, New Jersey, and Mr. Tyrell (Whitney) White, Trenton, New Jersey; and several other relatives and friends.
M.C. Smith Funeral Home in charge.