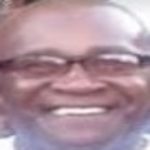 Mr. Lonnie Singleton, Sr. passed away on Sunday, October 10, 2021 at the Washington County Regional Medical Center. Graveside funeral services were held on Wednesday, October 20, 2021 at 2:00 P.M. at the Spear Grove Baptist Church in Wadley.
Lonnie was born on March 1, 1940, the sole child to the parentage of the late Mr. Nathaniel Singleton, Sr. and the late Mrs. Dorothy Jones Singleton. He received his early education from the Liberty County School System. Following high school graduation, Mr. Singleton began work with Singer Sewing Machine Factory and was eventually promoted to Foreman. Lonnie would hold various titles in many fields, including found of the "Fountain of Life" restaurant. From a young age he loved to sing, creating a singing group with his cousins, "The Gospel Chariots," which allowed him to tour the country, grow his faith, and develop into the man of God. Mr. Singleton possessed an extraordinary voice and continued to sing during the course of his entire life. As a father and husband, Lonnie was passionate, loving, and kind. He enjoyed spending time with his children and grandchildren. Mr. Singleton was a faithful servant and Deacon at the Zion of Faith Missionary Baptist Church, where he served under the leadership of Reverend Clarence Cooper.
Lonnie leaves to cherish his memories his loving and dedicated wife of twenty-three years, Mrs. Patricia Singleton; children, Mrs. Jacqueline Singleton Roberts, Mr. Lonnie (Vivian) Singleton, Jr., Mrs. Iesha (James) Robinson Pickens, Ms. Trulanda Singleton, Mrs. Renee (DeAndre) Jamerson, Ms. Jessica Turner, Ms. Nahndi Singleton, and Mr. Isaiah Singleton; siblings, Mr. Nathaniel (Yvonne) Singleton, Jr., Mr. Anthony Singleton, and Mrs. Sylvia (Rocky) Brown; aunts, Mrs. Lula Belle Singleton Baldwin, Mrs. Juanita Singleton, Mrs. Anna Moody, and Mrs. Geneva Riley; uncles, Mr. Darnell Singleton, Mr. Ralph Singleton, and Mr. Al Preston Singleton; godson, Mr. Anthony Gray; twenty-four grandchildren; four great-grandchildren; and several other relatives and friends.
M.C. Smith Funeral Home in charge.