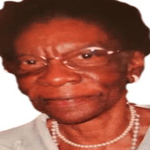 Mrs. Mary Bell Adams passed away on Monday, October 11, 2021 at the Washington County Regional Medical Center. Graveside funeral services were held on Saturday, October 16, 2021 at 3:00 P.M. at the Zion Hope Baptist Church.
Mary Bell Adams was born on April 2, 1939, the first child to the parentage of Mr. Oscar Rowling "Burke" Adams and Mrs. Celia Mae Tucker Adams of Tennille. Over the course of twenty-two (22) years, she became "Big Sister" to ten younger siblings. In the footsteps of her mother, Patricia began her education at the Tucker School in Wrightsville under the instruction of her great-uncle, Professor John D. Tucker. Mrs. Adams also attended the Ohoopee Baptist Church School, the Tennille Elementary School, and the T.J. Elder High School from which she graduated in 1958. She believed in furthering one's education and inspired generations of her family to attend college. Mary Bell financially and physically supported each of her siblings, her son, Keith, and several nieces and nephews to attended college. Mrs. Adams was an active member of the Zion Hope Baptist Church for her entirety of her spiritual journey. She supported the church in all its services to better the lives of the community. Mary Bell was an establishing member and Past President of their Choir, who worked tirelessly to ensure that it was properly equipped. Mrs. Adams also faithfully served as a Senior Usher for over forty (40) years and as a representative at the Usher Board Convention of the Burnette Grove AME, Greater New Hope, Samuel Grove, and Zion Hope Baptist Churches. She retired from the Washington County Health Department after thirty-four (34) years of loyal, dependable, and committed service to the Washington County Community. Mother Mary Bell was a devoted daughter, sister, mother, auntie, cousin, great-auntie, great-great-auntie, and friend. She was the primary care giver for both of her parents. Her devotion extended to individuals and families in the community, especially her Zion Hope Baptist Church family. On the evening of Monday, October 11, 2021, she was ushered into her heavenly home just as she had ushered many into the ZHBC and other community churches. She was steadfast, unmovable, and always abounding in love, truth, honesty, and support with a heart filled with many well wishes for the success of others. Her advice and admonishments were given in a straightforward, yet kind, candid, and humorous manner. Mary Bell is preceded in death by her parents, an older infant brother, and a toddler sister, Janelle.
Ms. Adams is survived by her son, Mr. Keith S. Adams, Tennille; sisters, Mrs. Gladine Roddie, Tennille, Mrs. Theresa A. Stephens, Tennille, Mrs. Mildred (Willie) Chapman, Queens, New York, and Mrs. Angelia A. (Jerome) Holmes, Augusta; brothers, Mr. Oscar R. Adams, Jr., Newark, New Jersey, Mr. Ronnie Adams, Tennille, Mr. Willie F. (Edna) Adams, Tennille, Mr. Jimmy Brinson, Tennille, Mr. John (Glenwood) Adams, Rockaway Beach, New York, and Reverend Eric T. (Sandra) Adams, Augusta; and a host of other relatives and friends.
M. C. Smith Funeral Home in charge.