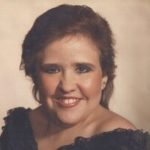 Tabitha "Tammy" Renee Garner Johnson, age 51, of Tennille passed away on Saturday, October 30, 2021, at her residence following an extended illness. Funeral services will be held at 2:00 P.M. on Tuesday, November 2 in the May and Smith Funeral Home Chapel in Sandersville with burial in Zeta Cemetery. The family will receive friends at the May & Smith Funeral Home from 1:00 P.M. until the hour of service on Tuesday. Reverend Scott Matthews and Reverend Lamar Brantley will officiate.
Tammy was a native and lifelong resident of Washington County. She was a graduate of the Washington County High School and a volunteer "pink lady" at the Washington County Regional Medical Center. Mrs. Johnson loved people, never meeting a stranger. One of Tammy's favorite pastimes was shopping with her Mama, who she affectionately referred to as "Sweet Cheeks," while her mother called her, "Twinkle Toes." Mrs. Johnson adored animals and loved each of her pets. Tammy was preceded in death by her brother, Lee Garner.
Survivors include her parents, Anna Marie Harvey Garner and Jerry Lee (Buddy) Garner, Jr of Tennille; sister, Katelyn Peeler; brother, Alan Peeler of Tennille; best friend, John Robert Turner; and several aunts, uncles, and cousins.
Online condolence may be expressed at mayaandsmithfuneraldirectors.com.
May and Smith Funeral Home in Sandersville is in charge of the arrangements.