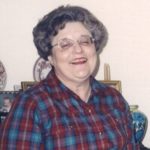 Patricia "Pat" A. Wicker, age 76, formerly of Gwendolyn Street in Sandersville passed away on Wednesday, November 3, 2021, at the Heritage Inn following an extended illness. A graveside service to celebrate her life will be held Saturday, November 6, 2021, at 2:00 P.M. in the Zeta Cemetery in Tennille. Reverend Danny Thomas will officiate. The family will receive friends on Saturday, November 6, 2021, at the May and Smith Funeral Home in Sandersville from 12:00 until 1:00 P.M.
Mrs. Wicker was born on March 31, 1945, to the late Forest Alexander and the late Annette Ivey Alexander. She was a lifelong resident of Washington County and a 1963 graduate of the Washington County High School. Pat was an outgoing person who spent her working career as a teller at Citizens Bank of the South, a job which she truly loved while interacting with many people. Mrs. Wicker enjoyed reading cookbooks and preparing meals for family gatherings. Her fried chicken, pecan pies, and cheese straws were always a family favorite. Pat is preceded in death by her husband, Emory Wicker, and her sister, Mary Ann Strickland.
Survivors include her son, Kevin Wicker and his wife Dawn of Eatonton; grandson, Daniel Seth Wicker of Eatonton; sister, Gladys Cronquist of Dallas, Texas; brother-in-law, Harry Strickland of Tennille; and many other family members and friends.
In lieu of flowers, the family suggest that donations be made in Mrs. Wicker's memory to the Alzheimer's Association, 106 SRP Drive, Suite A, Evans, Georgia 30809.
Online condolence may be expressed at mayandsmithfuneraldirectors.com.
May and Smith Funeral Directors in Sandersville is in charge of these arrangements.