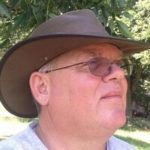 Mr. Ronald James Griffith, age 58, of Warthen, passed away Thursday, November 4, 2021. A funeral service to celebrate his life will be held on Monday, November 8th at 2:00 P.M. in the May and Smith Funeral Home Chapel with Reverend Bobby Williford officiating. The family will greet friends from 1:00 P.M. until the hour of service at 2:00 P.M.
Ronald, affectionately known as "Ronnie" and "Griff," was born in Livonia, Michigan and reared in Washington County, Georgia. He began his working career in the security field in Texas before returning to Georgia and beginning a 30-plus year career in law enforcement. Mr. Griffith was employed as a Police Officer for the City of Tennille, as Chief of Police for the City of Adrian, and retired as a Detective for the City of Sandersville. In retirement, he owned and operated Griffith Roofing Solutions and became a commercial truck driver for SWW Construction of Soperton. Ronnie enjoyed cooking and spending time with his family. He was known by those who knew him for his resourceful nature in building and for his loving and caring heart. Mr. Griffith is preceded in death by his parents, Arnold Ralph Griffith and Dorothy Ross Griffith.
Survivors include his children, Christina G. Merrell and her husband Gary of Warthen, Ashley G. Williford and her husband Jeremy of Sandersville, and Omar Griffith of Dublin; grandchildren, Katlyn Wood, Brayden Wood, Ariel Dunn, Alexia Dunn, Alexander Dunn, Kayla Thompson, Annabelle Thompson, Landon Clements, Logan Clements, Aaliyah Blanchette, and Morgan Williford; and siblings, Randy Griffith and his wife Katrina of Michigan, Eugene Griffith and his wife Elaine of North Carolina, Starlene Ware of Swainsboro, and Tonya Farmer and her husband Jack of Sandersville.
Online condolences may be expressed at mayandsmithfuneraldirectors.com.
May and Smith Funeral Directors is in charge of these arrangements.