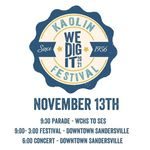 "We're looking forward to a great festival," said Washington County Chamber of Commerce President Katie Moncus when discussing the upcoming Kaolin Festival with Washington County Commissioners.
This year's festival is scheduled for Saturday, November 13.
Chamber President Moncus explained that the original festival date was postponed due to COVID-19; the Chamber worked with local healthcare advisors to come up with a modified festival on a smaller scale to create a safe, fun atmosphere.
The Parade will begin at 9:30 a.m., traveling from Washington County High School to the former Sandersville Elementary School. Roads WILL be blocked beginning at 9 a.m. on Saturday morning until the completion of the parade.
From 9 a.m. until 3 p.m., the festival will take place in downtown Sandersville. That portion of the festival will feature food vendors, as well as entertainment from local talent. In addition, festival-goers will enjoy the Kaolin Cruise-In car show, a heavy equipment display on Malone Street, the Jurassic Park Dinosaur Experience, and the Kaolin Chalk Art in the downtown area.
On Saturday evening, The Soul Shine Band will take the stage for an evening concert from 6 p.m. until 8 p.m. The entrance to the concert opens at 5:30 p.m.
Chamber President Moncus explained that a variety of events will take place throughout Washington County on Saturday, November 13, as well.
"This is a big push to have everyone enjoy what's going on throughout the community," said President Moncus. She added, "People have done a great job of tagging on to what we're doing."
The Town and Country Garden Club's Annual Holiday Bazaar will take place at The Brown House on North Harris Street on Saturday, from 10 a.m. until 3 p.m. The T.J. Elder Community Center on Hall Street will be open from 1 p.m. until 5 p.m. for visitors to enjoy an extensive African American collection of history.
The Oconee Valley Iris Association's Fall Iris Show will be held at the Deepstep Community House on Saturday from 1 p.mm. until 4 p.m.
Downtown Tennille's Christmas Open House will take place on Saturday; visitors are encouraged to enjoy all of Tennille's dining options while also shopping in the local businesses.
Free airplane rides will be offered to children ages eight to 17 through the Young Eagles Rally at Kaolin Field from 12:30 p.m. until 3:30 p.m. on Saturday, November 13.
To learn more about this year's Kaolin Festival, visit washingtoncountyga.com/kaolinfestival.