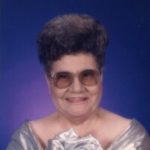 Mrs. Mary Louise Smith Bridges, age 93, of Sandersville, peacefully passed away on Monday, November 16, 2021, at her home following a brief illness. Funeral services will be held at 2:00 P.M. on Friday, November 19th in the May and Smith Funeral Home Chapel with burial in the Washington County Memorial Gardens Cemetery in Sandersville. Reverend Danny Thomas will officiate. Pallbearers will be Ashley B. Bridges, Christopher Bridges, Joseph (Trent) Brown, Connor Cowart, William Tapley, and Holden Yarbrough. The family will receive friends at the May and Smith Funeral Home in Sandersville on Thursday, November 18th from 5:00 P.M. until 7:00 P.M.
Mrs. Bridges was a native of Washington County, Georgia, the daughter of the late Floyd Wright Smith, Sr. and the late Clipsey Mae Upton Smith and Mary Sammons Smith. Louise, affectionately known as "Granny B," was a loving homemaker. Dressing, macaroni & cheese, and hoecakes with chocolate syrup were family favorites prepared by her. The macaroni & cheese was referred to as "legendary," and often requested at church functions and family reunions. In addition to her children, she raised her sister, Lois Johnson; her nephew, Kenny Bridges; and her great-grandson, Christopher Bridges. Mrs. Bridges was a faithful member of the Downs Church of God, attending services for over 73 years, while teaching Children's Sunday school classes for over 50 years.
In addition to her parents, she is preceded in death by her husband of 60 years, Jewell Bridges; son-in-law, Wayne Tapley; grandson, Gregg Bridges; brothers, Floyd Wright Smith, Jr., John R. Smith, and Frankie Smith; and sisters, Sally (George) Bragg, Rosa (Carl) Smith, and Annie (Grover) Smith.
Survivors include her children, Larry (Laverne) Bridges, Connie Bridges Tapley, John (Teresa) Bridges all of Sandersville, and Gary "Hoss" (Patty) Bridges of Tennille; eight grandchildren; sixteen great-grandchildren; seven great-great-grandchildren; brothers, James "Jimmy" "Jimbo" Smith of Davisboro and Louis (Kay) Smith of Sandersville; and sisters, Martha Jean (Richard) Stubbs of Panama City, Florida and Lois (Billy) Johnson of Gibson.
Online condolences may be expressed at mayandsmithfuneraldirectors.com.
May and Smith Funeral Directors is in charge of these arrangements.