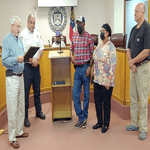 Sandersville Mayor and City Council recognized Willie "W.D." Durden of the Sandersville Fire Department for his contributions to the community during their Monday, November 1 City Council meeting.
Durden recently announced his retirement from the Sandersville Fire Department, after serving the City of Sandersville and its citizens for more than 31 years.
Durden began his tenure with the Sandersville Fire Department on March 21, 1990. He received his Basic State Firefighter certification on January 14, 1992; he also earned his Hazardous Materials Operation certification on July 14, 1993.
"During his 31 years of service with the City of Sandersville Fire Department, Willie "W.D." Durden touched the lives of many Sandersville and Washington County residents while responding to emergencies in their time of need," said Sandersville Mayor Jimmy Andrews. He added, "During his years of service as a Volunteer Firefighter, Durden has been an integral part of the City's Fire Department setting an example for fellow firefighters with his dedicated service, loyalty and devotion to his job and to those he served."
Sandersville Mayor Jimmy Andrews commended Durden for his dedication to the people of Sandersville.
"If there was one word that could describe W.D. it's 'dependable,'" said Mayor Andrews during the November 1 City Council meeting. He added, "Willie Durden was always there; you could count on him day or night, and he was always a team player."
During the Sandersville City Council meeting, Sandersville Mayor and Council presented Durden with a framed resolution to commemorate his [Durden's] service to the community.
Durden officially retired from the Sandersville Fire Department on September 30 of this year.