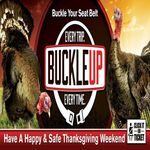 This Thanksgiving holiday, the Sandersville Police Department is teaming up with the Georgia Governor's Office of Highway Safety (GOHS) and the U.S. Department of Transportation's National Highway Traffic Safety Administration (NHTSA) on a high-visibility Click It or Ticket seat belt awareness campaign. From Monday, November 15 to Sunday, November 28, Sandersville Police will be reducing the number of fatalities that occur when vehicle passengers fail to buckle up.
"If we spot you riding unbuckled, we will pull you over and issue a ticket," said Captain Kelly Collins of the Sandersville Police Department.
During the Thanksgiving holiday weekend in 2020 (6:00 P.M. on Wednesday, November 25, to 11:59 P.M. on Sunday, November 29), 604 traffic crashes resulted in 317 injuries and 24 deaths. These deaths represent needless tragedies for families across the state of Georgia and may have been prevented with the simple click of a seat belt. Statewide, 281 impaired drivers were arrested, 940 seat belt citations were issued, and 217 child restraint citations were dished out.
"The Sandersville Police Department sees the effects of unbuckled driving every day, and we see the preventable tragedy it creates for so many loved ones left behind," said Capt. Collins. "Whether you're driving cross-country or across the street, you must wear your seat belt. The bottom line is that the seat belt may very well mean the difference between life and death. This Thanksgiving, and every day of the year, remember to Click It or Ticket."
In Georgia, the law requires children under the age of 8 to be properly secured in an approved car seat or booster seat while riding in passenger automobiles, vans, and pickup trucks. Children over the age of 8 to adults should use seat belts.  The back seat is the safest position for children 12 years old and under. Violations for children under the age of eight who are unsecured while riding in a vehicle include a first conviction of not more than $50 and second and subsequent convictions of not more than $100. Points will be assessed against a violators driver's license including a first conviction of one point and second and subsequent convictions of two points. For children ages 8 through 17, a $25 fine will be assessed. Individuals over the age of 18 will be handed a $15 fine for being found unsecured while riding.