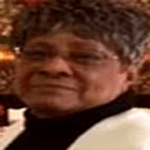 Mrs. Carrie Warthen-Wimberly passed away on Wednesday, December 29, 2021, at her residence. Memorial services were held privately by the family.
Carrie was born July 21, 1933, in Johnson County, the daughter of the late Mr. Taft Moye and the late Mrs. Carrie Warthen. She was preceded in death by a grandchild, Chadric Lewis. Mrs. Warthen-Wimberly was well known and beloved in her community. She was known by many as "Ma" because they considered her a mother.
Mrs. Wimberly leaves to cherish her memories, two sons, Mr. Robert (Teresa) Warthen, San Antonio, Texas and Mr. Ricky (Marilyn) Wimberly, Sandersville; six daughters, Ms. Freddie Warthen, Ms. Bettye Carlyle, Mrs. Marchell (Tony) Kitchens, Ms. Gale Wimberly, Mrs. Denice (Tony) Murray, Ms. Deloise Wimberly, all of Sandersville; seventeen grandchildren, Cierra Kitchens, Moesha Kitchens, Tony Kitchens, Jr., Glenn (Calencia) Webb, Lashika Grooms, Rodreicus (Lakesha) Carlyle, Phoenicia Carlyle, Shenika Carlyle, Quenterious Murray, Ashley Peacock, LaTony Warthen, Quaderious Jones, Tavares Jones, Kenzie Wimberly, all of Sandersville, Taneisha (Marcus) Pace, Huntington, Texas, Omar Warthen, Erica Warthen, San Antonio, Texas; and a host of other relatives and friends.
M. C. Smith Funeral Home in charge.