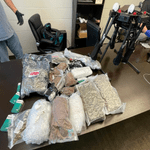 A recent early morning traffic stop led to the arrest of one individual for multiple drug related charges.
On Tuesday, June 14, a Washington County Sheriff's Office deputy on patrol pulled over a vehicle on Breezy Hill Road in Davisboro. A subsequent investigation would reveal a large quantity of illegal substances.
Quinton Rashawn Rosemond, 25 years old, of Simpsonville, South Carolina was arrested. He was charged with the trafficking of methamphetamine, the trafficking of ecstasy, the possession of marijuana with the intent to distribute, the possession of items prohibited, and the improper transfer of tag.
During the field investigation, Washington County Sheriff's Office deputies located 1.4 pounds of methamphetamine, 6.1 pounds of marijuana, .5 pounds of MDMA (ecstasy) pills, and 9 pounds of illegal tobacco.
Quinton Rashawn Rosemond