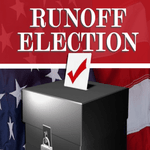 District 2 voters in Washington County are headed back to the polls today.
Voters will be deciding the District 2 representatives on the Washington County Board of Commissioners and Washington County Board of Education through a runoff election.
The General Primary Runoff Election was enacted last month following the conclusion of the General Primary Election held on Tuesday, May 24.
No candidate in the two races received greater than 50 percent of the public vote thus creating the need for a runoff election.
Last month, three candidates ran for the Washington County Board of Commissioners District 2 seat. It was the only contested race for an Incumbent Commissioner seeking reelection. The incumbent Edward Burten, Jr. received 294 votes (35.2 percent), Bobby Jackson received 274 votes (32.9 percent), and Christian Cobb received 266 votes (31.9 percent).
Of the 835 overall votes cast, only 28 votes separated the candidate with the most votes received from the candidate with the least number of votes received. Cobb lacked but 8 votes from his inclusion in the runoff.
Washington County District 2 Commissioner Edward Burten, Jr. is facing Bobby Jackson in the General Primary Runoff Election.
Three candidates also ran for the Washington County Board of Education District 2 seat. Kristi Jenkins received 355 votes (42.5 percent), John "Zack" Webb received 251 votes (30 percent), and Shanika Wilcher received 230 votes (27.5 percent).
Four of the five seats on the Board of Education saw opposition in May. No incumbents sought reelection for their position. Two races saw more than two individuals seek election. Following the 817 overall votes cast in District 2, a runoff was declared.
Kristi Jenkins is facing John "Zack" Webb in the General Primary Runoff Election.
Monday, May 23 was the deadline to register to vote in the today's election. The final day to submit an application for an absentee ballot was Friday, June 10th.
Early voting was held last week from Monday, June 13 through Friday, June 17. There were no Saturday voting opportunities.
District 2 of Washington County includes portions of Davisboro, Riddleville, Sandersville, and Warthen.
Election Day polling precincts for applicable voters are found at the following locations:
– Davisboro … Davisboro Community Center at 208 South Main Street
– Riddleville … Old Riddleville Fire Station at 10310 Georgia Highway 231
– Sandersville … Washington County Recreation Department at 200 Franklin Haynes Boulevard
– Warthen … Warthen Fire Station at 178 Warthen Lane
Polls will be open today from 7:00 a.m. until 7:00 p.m.
For details on local results in the May 23 General Primary Election, click HERE.