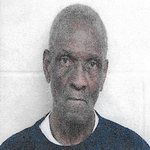 Mr. Willie Roberson departed this Earth for his Heavenly home Saturday, June 18, 2022, at the Washington County Regional Medical Center in Sandersville. A memorial service will be held by his family at a later date.
Mr. Roberson, affectionately known as "Lil Bill," was born on August 16, 1951, in Oconee, the son of the late Mr. Bill Burden and Ms. Eloise May Roberson. He attended the Washington County Public Schools. Willie was employed in construction.
Mr. Roberson is survived by three sisters, Louise Roberson of Sandersville, Eva Mae Robinson of Decatur, and Jeneva Armstrong of Wrightsville; one brother, William Reeves of Sandersville; one sister-in-law, Marie Burden; devoted niece, Polly Harris of Sandersville; devoted cousin, Gloria Maze Richardson of Sandersville; devoted friends, Elmorris Haynes, JoAnn Hunter, and Naomi Seal; and several nieces, nephews, great-nieces, and great-nephews, other relatives, and friends.
Online condolences may be expressed at lmpiercefuneralhome.com.
L.M. Pierce Funeral Home in charge.