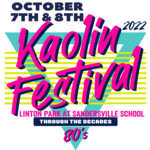 The 2022 Kaolin Festival is scheduled for this weekend on Friday, October 7 and Saturday, October 8.
A totally tubular, radical, and wicked time is set to be had as 'the 80's decade' serves as this year's Festival theme.
Festivities are set for a homecoming to the annual second weekend of October. Due to circumstances surrounding the COVID-19 conflict, the 2020 Kaolin Festival was cancelled and the 2021 event was postponed by a month to November.
The over-65-year-old Kaolin Festival will also return to Linton Park at the Sandersville School at 514 North Harris Street in Sandersville.
Attendees can begin enjoying the weekend celebrations on Friday morning at the First Christian Church of Sandersville from 7:00 a.m. to 9:00 a.m. The Church will host a community breakfast at 166 East Church Street.
Entertainment starts on Friday night at Linton Park. Food and non-food vendors, live musical acts, a kids fun zone, kaolin education stations, and a heavy equipment display will be open to the public from 6:00 p.m. to 10:00 p.m.
Fun will resume at the Sandersville School on Saturday from 9:00 a.m. to 3:00 p.m. In addition to the continuation of the offerings on Friday night, Saturday will bring kaolin mine tours, a car show, and the Kaolin Festival Parade.
The annual parade will begin at 9:30 a.m. and run from the Washington County High School on Highway 242 down Highway 15 to the Sandersville School. WACO 100 will offer a live video stream HERE beginning at 9:00 a.m.
Kaolin Festival festivities will conclude with a concert in the Linton Park from 7:00 p.m. to 10:00 p.m. Tickets to the Swingin' Medallions show can be purchased for $10 at the gate that opens at 6:00 p.m.
Parking will be available on Friday and Saturday behind the Sandersville School for $5 per vehicle.
For patrons wishing to memorialize the event, the Guild of Washington County is continuing their tradition that began in the 1980's of selling the annual Kaolin Festival t-shirt. Stocks are now limited, but shirts may be purchased for $20 in the Washington County Chamber of Commerce at 603 South Harris Street in Sandersville or at theguildofwaco.com.